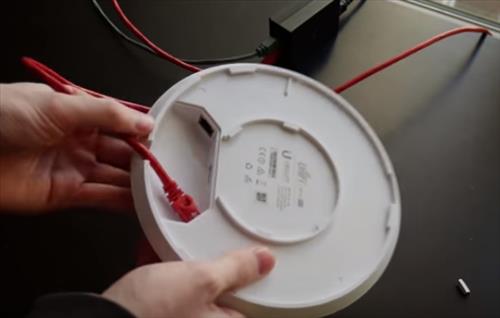 Power Over Ethernet (PoE) access points are the most reliable way to extend a WiFi signal.
They can be used in many scenarios, from adding WiFi to a detached garage to simply extending internet access.
What is a PoE Access Point
A PoE access point extends a WiFi signal and the power requirements over an Ethernet cable.
PoE (Power over Ethernet) has a lot of advantages over standard power supply devices.
An Ethernet cable can simply be run to a location and plugged into an Access Point, giving power and data to it.
This makes for a simple and clean setup with no need to run extra power lines.
If you have never set up a PoE access point before, they are easy to install by running a Cat 5/6 cable to a PoE injector that adds power and data to the line.
For example, here, the PoE connection is run to the access point, and the LAN port is run to the router.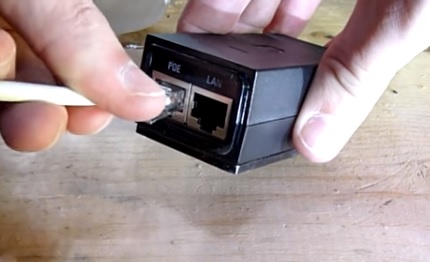 Most PoE devices come with a power injector but be sure to read what comes in the package.
The power and data will travel over the Ethernet line which the PoE injector makes easy.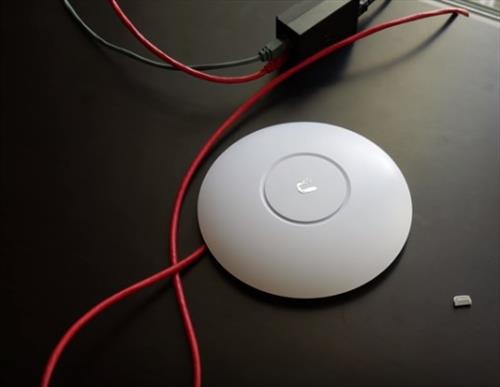 There are many units to choose from with our favorite options below.
As always be sure to read the reviews on Amazon, forums, or elsewhere to be sure a unit is a good fit for you.
*This post contains affiliate links.
Our Picks for Best POE Power Over Ethernet Access Points
TP-Link AC1350 EAP225

The TP-Link AC1350 EAP225 is a very good WiFi access point that can be powered through an Ethernet cable or a standard power supply.

To power it from an Ethernet connection, it uses 802.3af PoE (10.15W) or a 12VDC / 1.5A external power supply.

It uses the WiFi protocols 802.11AC and is a dual band 2.4GHz/5GHz unit, making it compatible with almost any WiFi network.

Dual Band 802.11ac devices are backward compatible with older devices and will work with wireless-N or even legacy wireless-G.

The range is also great with a 4dB Omni directional antenna that can pick up a signal from any direction along with 2×2 MIMO technology.

TP-Link also makes a faster unit called the TP-Link AC1750, which is faster but likely overkill for the average user.


Ubiquiti Networks Unifi 802.11ac

Ubiquiti Networks Unifi 802.11ac wireless access points are very popular and have auto-sensing 802.3af/802.3at PoE support.

The Ubiquiti PRO UniFi Access Point will likely be too much for an average home and is used in many small business wireless setups such as motels.

The UniFi units will allow you to set up custom accounts, limit the bandwidth and usage an account can get, see who is connected, stop huge bandwidth users, and much more.

The system can even set up with different passwords so no single password is needed.

Ubiquiti PRO UniFi is a great system that runs over Ethernet and has a lot of options to fit almost any scenario.


D-Link PoE Access Point AC1300 Wave 2

Available Here on eBay
If you are looking for a low-cost unit that will boost a WiFi signal on a budget, the D-Link PoE Wave 2 is worth a look.

There are four different versions, each with faster speeds.

The AC1300 version is the mid-range unit that will handle the busiest home or office wireless speeds.

It is a good PoE unit that would be a good fit for the average WiFi user.


Linksys AC1200 POE WiFi Access Point

The Linksys AC1200 access point is a good option that is a POE unit with many features.

It is a dual band 2.4GHz/5GHz unit along with a browser-based interface for management from almost anywhere.

While mainly for business owners who need to manage wireless access points remotely it also is a good unit for homeowners.

It also has all the newest wireless protocols and is built for high traffic WiFi environments.


Hawking 1750AC Managed AP

The Hawking 1750AC is a high-end unit that will manage almost any wireless access point environment.

It is an outdoor waterproof IP-67 unit with six antennas.

It is also is a dual band 802.11ac unit working in both the 2.4GHz and 5GHz frequencies.

The Hawking 1750AC is more than most homes will need and is good for high-traffic areas that need the WiFi extended.
What Ethernet Cat Cable Version Can be Used for PoE?
Cat 5 and Cat 6 are the most common Ethernet cable version used with PoE, but any version can be used.
The newer Cat 7 and Cat 8, while more expensive, are becoming more popular.
Cat 5e is currently the most commonly used Ethernet cable type used with PoE since it has good data transfer speeds at a lower cost.
Summary
Power over Ethernet makes setting up access points easy compared to past setups.
They not only run digital high-resolution data but also the power which eliminates the need to run extra power lines.
If you have an older analog setup there are PoE adapter cables for conversion.
Do you know of a good Power Over Ethernet access point? Let us know in the comments below.