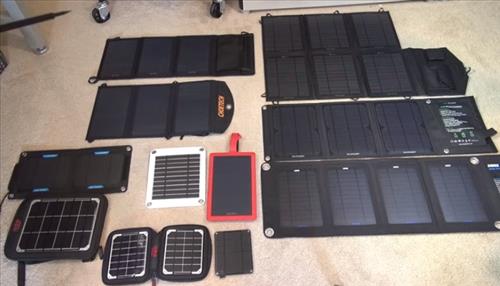 Portable solar smartphone and Tablet chargers are good things to have in a emergency, camping, or any time you will be away from the power grid.
There are many units available from very small to larger units that can receive more sunlight and give out more power.
Keep in mind the place you plan on traveling to or being at will affect the outcome of the type of unit needed.
As everyone knows solar panels are dependent on the Sun with cloudy days lowering the output if they can output power at all.
The angle of the Sun and temperature will affect the results.
If you travel to an area with lots of cloud cover getting a unit with more panels would be better so the low sunlight can be amplified.
Sunny areas will need less panels as there is less chance of cloud cover.
Let take a look of some of our favorite units, as always be sure to read the reviews on Amazon, forums, or elsewhere to be sure a unit is a good fit for you.
*This post contains affiliate links.
Our Picks for Best Portable Solar Panel Phone Charger
CHOETECH 19W Solar Panel Charger

This unit made by CHOE is a 19 Watt unit that also can Fast Charge a phone.

It has two USB ports that can put out 5 Volts 2.4 AMPS.


Three panels fold out to receive sunlight and output voltage.

The CHOE tech is lighter and more portable than many other units for the power output.

It weighs 16.9oz and is 10.2 inch X 6.3 inch X 0.7 inch folded.

BigBlue 28 Watt Solar Charger

BigBlue makes this 28 Watt unit that has built-in smart charging.

It can automatically detect if an Android or iPhone is plugged in and adjust the voltage accordingly.

The weight is 20.6 oz and fold-able with is doing a nice job of charging portable electronics.

TecBillion

TecBillion 15W Portable and Foldable 2-Port USB Solar Charger

This TecBillion unit has some nice features such as water resistant and camouflaged.

It is mainly geared toward hunters who need a durable unit that can withstand water and fit in to their setup.

Any user can benefit from it though who needs a solar charger that is tougher than most.

Output current of 2 ports: 1A, 1 Port 2A, 5 volts, 15 watt.

Summary
Getting a good solar panel smartphone charger is a good investment if you are traveling, camping, or any scenario you cant plug into an AC wall outlet.

Most all packages are built for portability with some being better than others.

A bigger unit with more panels will likely be necessary in a location that the cloud cover block out most the Suns rays.

A location with a lot of Sun and low cloud days, such as the American Southwest can use less panels and be more portable.

Whichever unit is chosen having one can be a life saver when no other power can be had.