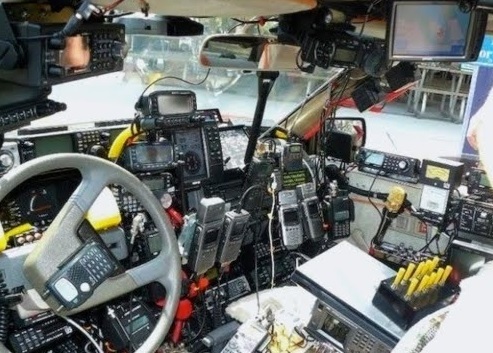 CB radios are not only fun but also an efficient cheap way to communicate at short range.

In the era of smartphones many would think CB radios are a thing of the past but this is far from the truth.

CB radios can give real time communications to a large group or another single user, and best of all it is free.

After the initial cost of setup is done talking to another CB owner is cost free.

What is the Range of a CB Radio?
All CB radios, with the exception of SSB radios transmit in the same power range of 4 watts.

This gives most CBs a range of 1-2 miles. Antennas and terrain can affect range.

If the terrain is good with no mountains or buildings sometimes the range can extend up to 10 miles.

The exception to standard CBs are what is called SSB radios which can transmit at 12 watts of power.

This gives SSB radios very good range of 200-300 miles depending on the terrain.

The downside to a SSB radio is that anyone you are talking to must also have a SSB setup, not any CB radio will be able to receive a signal.

What Is A Good CB Radio To Buy?
A good CB is what fits the scenario. Many like a CB radio fitted into their vehicle while others like smaller hand held radios.

The best way to find one that fits your scenario is to look at popular CB radios.

As with any product be sure to read the reviews on Amazon or elsewhere to be sure it is what you are looking for.

Our Picks For Best CB Radios
Cobra 29 LXcan

The Cobra 29 LXcan transmit and receive on up to 40 channels, and can also receive weather updates from NOAA.

It has built in diagnostics that gives information on battery life, RF power, and antenna condition.

It also has a built in PA system.


Midland 75-822

Midland 75-822 is a very popular portable handheld CB radio.

It also comes with NOAA weather updates and is a 40 channel radio.

It uses six AA batteries for power or can be plugged into a cigarette lighter socket.

Other add-ons can be bought for it separately including better antennas, Bluetooth adapters and headsets.




Uniden BEARCAT 980SSB

The Uniden BEARCAT 980SSB is a very good unit with large display that is easily readable.

It is also a SSB radio and one of the best for the money.

Summary
The main factors to look at when it comes to a CB radio is how it will be used. If it is only used in a car or truck than a dedicated inside mounted radio would be best.

If you need mobility than a handheld unit would be best.

All standard CBs transmit at 4 Watts but most can be boosted with better antennas and learning how terrain effects transmissions.

As always reading reviews from Amazon or similar sites is the best way to judge which one is right for you.