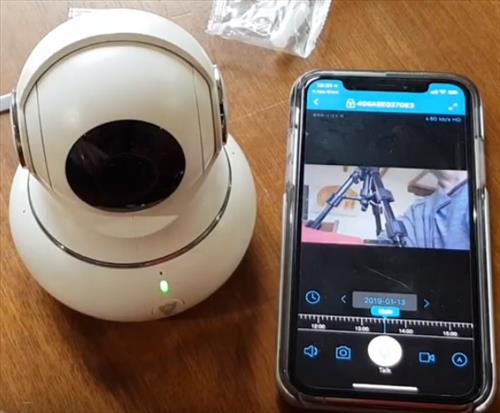 Having a home camera that live streams to a smartphone is a nice option to have in many scenarios.
From watching pets to basic security there are many units to choose from.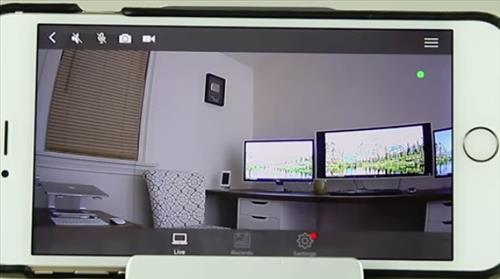 Besides live streaming most will also have many other features such as recording, night vision, and two-way communication.
Below are some of our favorite picks that can live stream with many more units available.
As always be sure to read reviews on Amazon, here, or elsewhere to be sure a unit is the right pick for you.
*This post contains affiliate links.
Our Picks for Best Home Wireless Home Live Streaming Camera To a Smartphone
AKASO P30

AKASO WiFi Camera Pet Camera, Home Security Camera Work with Alexa, Google Home and Fire TV, Indoor Surveillance Dog Camera, Baby Monitor, 2-Way Audio, Remote Access, Motion Detect, Cloud Storage(P30)

The AKASO P30 is a nice streaming camera that works nicely in many scenarios.

It is a small oblong domed unit that can rotate to get a better view of a location.

It can live stream a panoramic view of a room in 1080P HD quality along with a pan and tilt option.

An SD-card can be inserted and used as storage or the app can record video to a smartphone.

The AKASO P30 is a nice unit that can be used in a variety of scenarios from pet or baby monitor to simple home security.

Littlelf Security Camera

Indoor WiFi Security Camera – [2nd Generation] Littlelf Smart 1080P Home Wireless Pet Camera for Baby Monitor with Motion Tracking, 2-Way Audio, Night Vision and Cloud Service

The Littlelf is another nice unit that connects to the WiFi and will live stream to a smartphone.

It has a 1920 x 1080 HD resolution which streams a good clear picture.

There is an App for Apple or Android smartphones that guide you through the setup and controls the camera.

Two way audio is also built-in to hear and speak if necessary.


SARCCH 1080P Light Bulb Camera

SARCCH Light Bulb Camera,Dome Surveillance Camera 1080P 2.4GHz WiFi 360 Degree Wireless Security IP Panoramic,with IR Motion Detection, Night Vision, Alarm, for Home, Office, Baby, Pet Monitor

Light bulb cameras are also a nice option that gives a full overhead panoramic view of a room.

They are also hidden cameras not easily spotted.

The SARCCH is one such unit that is a light bulb camera unit with a lot of features.

It has night vision, SD-card slot for recording, can send a HD 1080p video to a smartphone or tablet, built in microphone, and has a motion detector to turn on and off recording.

The tip has an HD camera that can view and record an entire room.

It also will light up like a regular bulb which makes it even harder to detect.

The setup is straight forward by downloading an App which guides you through the setup.

Like most units, it connects to the 2.4GHz side of a router so be sure your smartphone is connected on that band.

Read Here for our Picks of Best Light-Bulb Cameras.


Wyze 1080p Smart Cam

Wyze Cam 1080p HD Indoor Wireless Smart Home Camera with Night Vision, 2-Way Audio, Works with Alexa & the Google Assistant, One Pack, White – WYZEC2

The Wyze is a smart HD Cam that can stream live and also much more.

It looks like a small box that has a magnetic base that pulls out and swivels around.

It is also compatible with Alexa for voice commands, has motion detection, and a magnetic base that attaches to metal.

The Wyze is a nice unit that will have no problems streaming to a smartphone or tablet.


LeFun Baby / Pet Cam

Baby Monitor, Lefun Wireless IP Security Camera WiFi Surveillance Pet Camera with Cloud Storage Two Way Audio Remote Viewing Pan Tilt Zoom Night Vision Motion Detect for Indoor Home Shop Office

The LeFun is a WiFi surveillance camera that can live stream to a smartphone.

There is an app to download to a smartphone for easy setup and use such as live feeds, recording, and more.

The camera can also be setup to view on a PC and can pan and tilt or rotate.
Summary
Having a camera that can send a video feed to a smartphone in real time is a nice thing to have.
From checking in on a home when away to watching pets there are many situations they are invaluable.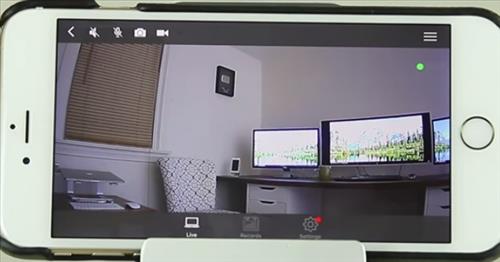 Most all units are easy to setup with an app the guide you through the process.
Keep in mind while setting up that the wireless cameras are usually setup in the 2.4Ghz band.
Most all new routers have two bands 2.4GHz and 5Ghz.
Before setting up a camera simply be sure your smartphone is logged into the router on the 2.4Ghz frequency or the setup will fail.
Do you have a favorite home wireless live streaming camera? Let us know in the comments below.