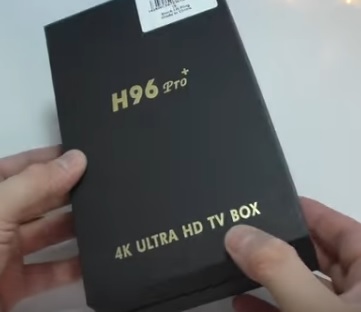 The H96 Pro Plus is a new 2017 android TV box that comes with a S912 CPU and 3GB of RAM.

It is a new breed of android TV boxes using the S912 CPU with more RAM, better WiFi, and more internal storage space.

The internal storage is nice at 32GB.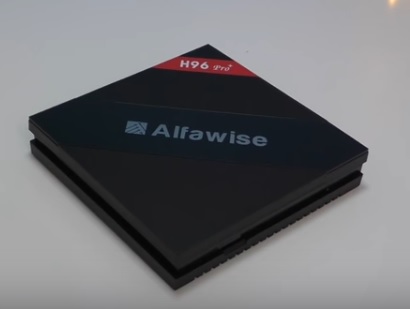 It also has dual band 802.11ac WiFi built in.

A remote control is included that is basic but works.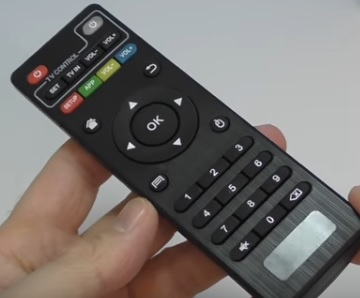 I always suggest upgrading to a mini wireless keyboard remote control for any android TV box.

Specifications
Android 6.0
CPU: Amlogic S912 Octa core ARM Cortex-A53 CPU up to 2GHz
RAM: 3GB DDR3
Internal Storage: 32GB EMMC
WiFi: Dual Band 802.11ac
Bluetooth 4.1

Like most android TV boxes it comes with an external SD-card slot to expand storage.

A nice thing is that android 6.0 now allows for the SD-card to expand the internal storage, or be seen as in the past as portable storage.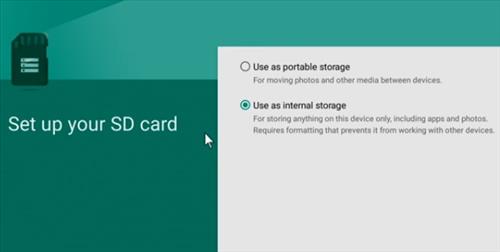 This means the internal 32 GB of storage can be easily be expanded by inserting a SD-Card and setting it up correctly.

One side has two USB ports.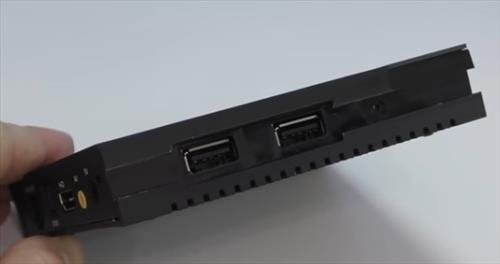 The back side has Ethernet, SPDIF, HDMI, and AV ports.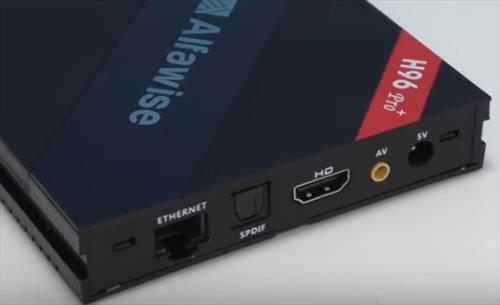 Doing a WiFi speed test the results were very impressive for an Android TV box.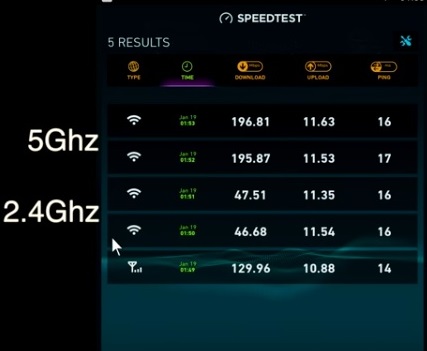 It gave a 196Mbps at 5GHz and 47MBps at 2.4 GHz which is the fastest I have seen for an Android TV box.

Running a CPU benchmark test with AnTUTU it gave a score of 42036.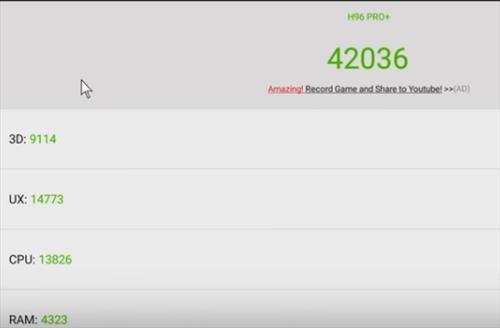 This is nothing new as the S912 CPU has been available for awhile, with the real benefit of the H96 Pro Plus box having 3 GB of RAM and good WiFi.

Booting the box up a standard launcher comes up for navigation.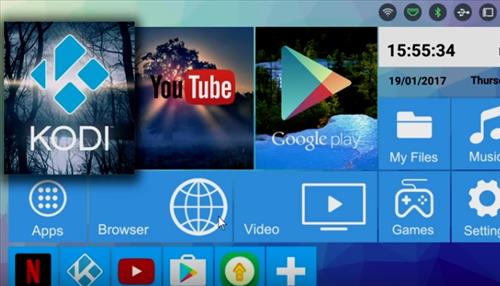 It comes with a lot of Apps installed. Of course as most know Apps are easily downloaded from the Play Store and very customizable.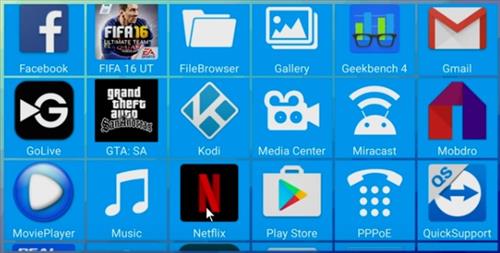 The H96 Pro Plus came loaded with Kodi Jarvis which may change to Kodi 17.5 with newer shipments.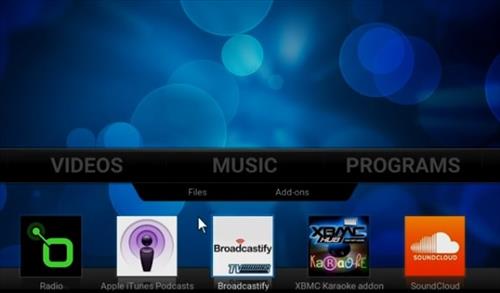 Upgrading to Kodi 17.5 Krypton is easy to do and is available in the Play Store.

Looking in System Information it shows how Kodi will run on the box which used barley any resources.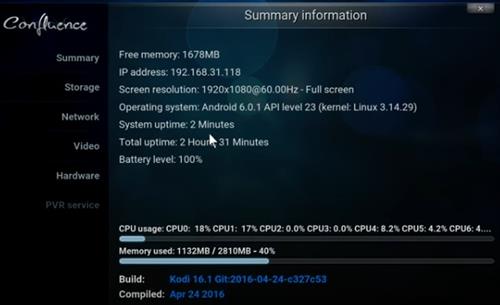 The extra RAM is nice especially if you plan to run 4K videos.

It comes loaded with all the popular add-ons such as Exodus, Phoenix and so on, which is also easy to customize.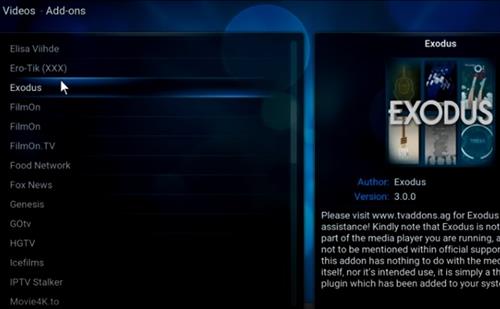 Playing videos it had no problem with HD 1080p and no problems with 4K at 60fps.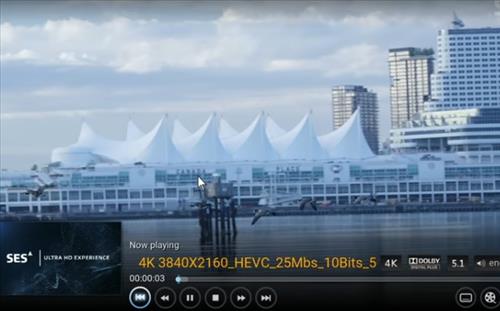 Testing game play I played GTA San Andreas at the maximum settings and it played it with no problems.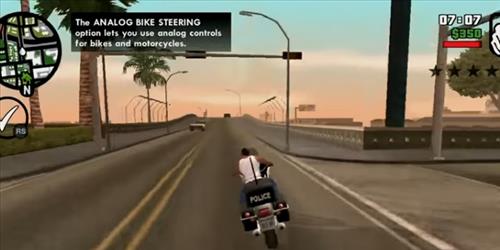 The extra RAM will help gammers who want to be able to play more games on an Android Box.

Availability
Amazon

eBay


AliExpress

Summary
The H96 PRO PLUS is a nice android TV box and currently a very good low cost option.

The S912 CPU also comes in many other units with varying other hardware such as 1GB and 2GB of RAM versions.

The extra RAM and very good WiFi is what makes the H96 PRO PLUS box stand above other low cost units.

More external storage at 32GB and expandable with an SD-card is also nice to have.

Of course the best android TV box is still the Nvidia Shield, but low cost units are making huge leaps to catch up and definitely worth a look.

It will have no problems running Kodi 17.4 Krypton and streaming 4K ultra HD videos.

I am still testing the unit but will update if anything changes.

As always be sure to read the reviews on Amazon or elsewhere to see is a unit is a good pick for you.

Read More Reviews Here on Amazon
EstgoSZ H96 Pro 3GB RAM 32GB ROM TV Box Amlogic S912 Octa-core CPU Android 6.0 Dual-band WIFI 2.4GHz/5.0GHz Bluetooth 4.1 1000M LAN 4K 2K Set Top Box 2017 Model