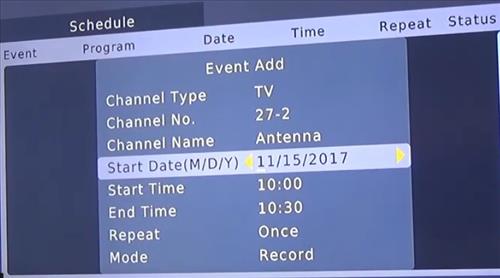 Recording over-the-air TV channel broadcasts for later playback can be done easily with the right setup.
A good TV antenna will be needed to get a good signal which is a necessary first step.
Once a good antenna is set up, an OTA DVR will be needed to record TV shows and movies.
Items Needed to Record Over-the-Air TV Channels
Over-the-Air DVR
TV Antenna
External Flash Drive or Hard Drive if there is no Built-in Storage
Can I Record Over-the-Air TV Channels?
Yes, over-the-air TV signals can be recorded in a variety of ways.
In the old days, people used a VCR to record OTA TV shows, but now there are many DVR options available.
Many have added features such as recording two shows at once, pausing, built-in WiFi to stream to multiple devices, and more.
Some of our favorite options are listed below.
Can I Get a DVR for a TV Antenna?
Yes, there are many DVR's available that can record OTA TV Broadcast.
Most all OTA TV boxes will require an antenna to get a good signal.
Can I Record Digital HD TV?
All OTA TV signals are now broadcast in High Definition video.
This means that almost any DVR that records OTA signals can record HD transmissions.
Keep in mind while all channels are now HD, the original broadcast may have been a standard-definition video.
What Over-the-Air DVR Options are Available?
There are many OTA DVR options that can be bought, from low-cost to high-end units.
Most all low-cost units will not have internal storage and need an External Flash Drive or Hard Drive to record TV shows.
Top-end units will usually have built-in storage but will cost more.
Below is our favorite picks for for the best OTA TV DVR boxes.
As always be sure to read reviews on Amazon, forums, or elsewhere to be sure a unit is the right pick for you.
Our Pick for Best DVRs That Record Over the Air TV
HOMEWORX HOMEWORX (Good Budget Unit)

Mediasonic HOMEWORX HW130STB HDTV Digital Converter Box with Recording and Media Player Function

The Mediasonic HOMEWORX is a good low-cost DVR that would be good for anyone on a budget.

It has a simple setup with video output ports for Coaxial, HDMI, or components to fit almost any TV.

It has no internal storage, and a Flash Drive or External Hard Drive needs to be bought separately to record video.

This can be a good option with 2-3 Flash Drives to record on and hold the TV shows for later playback.

The average TV show can be roughly 300MB-500MB in size, while movies are roughly 1GB.

A low-cost 16GB-32GB Flash Drive in combination with the HOMEWORX is a good budget setup.


Fire TV Recast OTA DVR (Best for Fire TV Stick Owners)

Fire TV Recast, over-the-air DVR, 1 TB, 150 hours

If you own a Fire TV Stick, the Fire TV Recast is a good option.

It has two versions with built-in storage, 500GB, and 1TB versions.

The unit can record two TV shows at the same time, along with many other nice features.

An antenna is hooked to the box with a coaxial port along with a USB slot and an Ethernet port.

The Recast streams over WiFi to other Fire devices, which makes it a good fit in a home with many Fire TV units, such as the TV Stick.

Tablo Dual LITE OTA DVR (Best for WiFi Streaming to Multiple Devices)

Tablo Dual LITE OTA DVR for Cord Cutters – with WiFi & Automatic Commercial Skip

The Tablo Dual LITE is a good option for streaming a recorded video over WiFi.

It connects to a Smart TV, Fire TV Stick, Smartphone, Tablet, Android TV box and many other devices using an App.

The back of the unit hooks to an antenna with a standard coaxial cable.

It also has an Ethernet port, a USB slot for external storage, and built-in WiFi to stream video.

A unit does not hook directly to a TV but streams to devices over WiFi with an App.

The Tablo is a good unit that would work well as an OTA DVR in a busy home with multiple devices.
Summary
Recording Over-the-Air TV channels are easy to do with the right setup.
There are many OTA DVRs available, with those above simply being some of our favorite options.
A good antenna will also be needed to get a good signal to record.
When looking for a DVR, be sure to see if it has internal storage or needs an external device to store videos on.
As always, be sure to read the specifications and features on any unit to be sure it is the right fit for you.