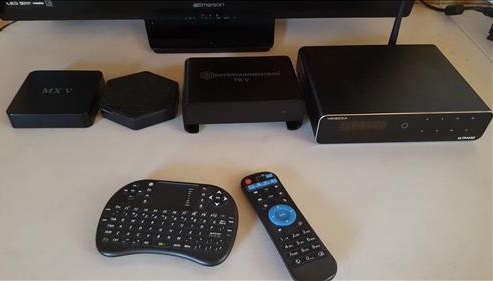 Android TV boxes makes for ideal media centers from streaming movies and TV shows to playing games.
They are a real benefit to any entertainment center and have wide capabilities that make them a go to solution for many.
There are many good units available with some of our favorite picks below.
As always be sure to read the reviews on Amazon, forums, here, or elsewhere to be sure a unit is a good fit for you.
*This post contains affiliate links.
Our Picks for The Top 10 Android TV Boxes
Nvidia Shield

Anyone looking for an Android TV box will come across the Nvidia Shield since it has some impressive hardware.

It has a NVIDIA Tegra X1 processor, 3GB Ram, 802.11ac WiFi, and USB 3.0.

While the Shield is very nice it hasn't had any hardware upgrades over the last few years.

This has given other low-cost options time to catch up to the Shield and become very real contenders at a much lower cost.

Even though the hardware hasn't been updated recently it is still a top unit to have and comes with a 500GB or 16GB hard drive.

For those who don't care about the new smaller version, the larger older units can be had with the same hardware at a lower cost.

H96 PRO PLUS

The H96 PRO PLUS has some nice hardware with 3GB of RAM, S912 CPU, and 32GB of internal storage.

In our test it was an impressive unit for the price and performed very well.

The 3GB of RAM gave it more horse power when needed while playing games or streaming HD videos.

It streamed HD videos very well along with fast WiFi speeds in all our test.

Read Full Review Here of the H96 PRO PLUS

T95Z Plus

The T95Z Plus is a low-cost Android TV box that is good for those on a budget.

It has a S912 Amilogic processor and 2 GB of RAM.

This is the basic hardware to get for an Android TV box.

While basic, it is a big improvement over last years 1GB of RAM that most units were shipping with.

It also has the newer S912 which will stream HD videos well with Kodi or other streaming media players.

Read Here for a Full Review of the T95Z Plus

Tops MXV

The Tops MXV is another low-cost budget unit that has some good basic hardware.

It has a Quad Core S905 CPU with 2GB of RAM and 16GB ROM.

While not the fastest or best it will stream videos well an is a good unit for a spare room or those on a budget.

Read Here for a Full Review of the MXV

DroidBOX PlayOn GPD XD

If you are looking for a nice portable Android TV unit the DroidBOX PlayOn GPD XD is a nice unit to have.

It has a HDMI out which displays to a large screen TV quick and easy.

It also plays games and is similar to a Nintendo 3DS. Game Emulators come installed and ready to play any of the old classics.

It is a great unit to have for those who are traveling or simply on-the-go, from playing games to streaming video to a big screen TV.

Read Here for a Full Review of the GPD XD DroidBOX PlayOn Android Gamepad

Himedia Q10 PRO

The Himedia Q10 PRO is a high-end Android TV box with some impressive hardware and built in features.

It uses the Hi3798C V200 chipset with a Realtek RTD1295 processors which is one of the best ARM based CPU's available and 2GB of RAM.

It also has a bay for a SATA hard drive to be inserted into which can be loaded with movies or other files.

A hard drive is not included and will need to be bought separately.

Being able to install a large hard drive and storage is beneficial for many reasons. For example, having a large video library on-demand with no need for an internet connection can come in handy in many scenarios.

Read Here for a Full Review of The Himedia Q10 PRO

Amazon Fire TV Box

The Amazon Fire TV box is a good unit especially for those who have Amazon Prime.

Amazon Prime members can stream videos for free with their paid account.

While there is some side loading techniques for other media players such as Kodi, it is mainly built around Amazon.

If those who have a Amazon Prime for free shipping it may be a good unit since the videos come free with the Prime service.

For those who want more control over their unit such as using Kodi another box may be a better fit.

R-BOX PRO

The R-BOX PRO is a nice mid-range unit that will stream videos very well.

It has a S912 CPU, 3GB of RAM, and 16GB internal ROM.

For those who want to to run Kodi and stream movies and TV shows it is a good unit to get.

Kukele

This unit from has some good basic hardware and is built for those who have WiFi issues.

The S912 CPU and 3GB of RAM will stream and play HD 1080p or 4K movies and TV shows well with Kodi or other media players.

The main feature of the Kukele is its large external antennas to help get better WiFi connection.

It has a dual band 2.4Ghz and 5Ghgz wireless chip to get the best possible wireless setup.

Edal

The Edal is another low-cost Android TV box.

It has Android 6.0, S912 Processor, 2GB RAM, and 16GB internal ROM. It also has dual band 802.11n WiFi.

Summary
Finding the best Android TV box depends on the user and what it is planed to be used for.

For example, to stream videos with Kodi a basic low cost unit will work well in most situations. For those who would also like to play games a higher-end box will be a better solution.

In the past the Shield has dominated as the top android TV box but many other units have gained making them real competitors.

For example the 3GB of RAM that comes with the Shield was a revolution two years ago is becoming common on many Android TV boxes. The Tegra X1 processor is still the fastest.

Portable Android TV units also are a very good option since they can be taken anywhere, have built-in batteries, and can be played on a small screen, or hooked up to large TV and played.

As always be sure to read the reviews here, on Amazon, or elsewhere to be sure a unit is a good fit for you.