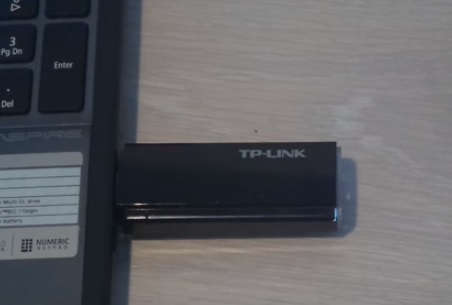 Getting a good USB wireless adapter to work with Linux was problematic in the past but less so now with many available.
It is the chipset of a WiFi dongle that makes it compatible with Linux.
Popular USB adapters Chipsets include the Ralink 3070, Atheros AR9271, and Realtek 8187.
There are many good units available with some of our favorite picks below.
As always be sure to read the reviews on Amazon or elsewhere to be sure a USB adapter is a good fit for your set up.
*This post contains affiliate links.
Our Picks for Top Linux Compatible USB Wireless Adapters
Panda Wireless PAU09

Panda Wireless PAU09 N600 Dual Band (2.4GHz and 5GHz) Wireless N USB Adapter W/Dual 5dBi Antennas – Windows XP/Vista/7/8/8.1/10, Mint, Ubuntu, openSUSE, Fedora, Centos, Kali Linux and Raspbian

Panda makes many good wireless dongles including the PAU09.

It has two 5dBi antennas to get good range and comes with a USB extender if needed.

A big plus is its Kali Linux compatible and can go into Monitor Mode.

The PAU09 is a dual Band 2.4Ghz/5Ghz adapter and uses the Ralink RT5572 Chipset.

The one downside is no 802.11ac support, as it is an 802.11n unit.

Still, its low-cost, good range, and wide compatibility make it a good Linux USB adapter.

Read Full Review Here


Alfa AWUS036ACH

Alfa Long-Range Dual-Band AC1200 Wireless USB 3.0 Wi-Fi Adapter w/2x 5dBi External Antennas – 2.4GHz 300Mbps/5GHz 867Mbps – 802.11ac & A, B, G, N

The Alfa AWUS036ACH is a Wireless-AC unit built for fast WiFi speeds and distance.

It comes with two large antennas that greatly improve a wireless signal.

It uses the RTL8812AU Chipset which Kali Linux released Drivers for.

This is good news for anyone wanting to use the newer 802.11ac WiFi protocols with Linux.

During our test, it worked well with some impressive wireless speeds, 213Mbps Download, and 21Mbps Upload.

Alfa USB adapters are widely used in the Pen Testing community for their strong Chipsets, Linux compatibly, and screw on antennas that can be easily changed out for larger ones.

Panda PAU05

Panda 300Mbps Wireless N USB Adapter – Windows Vista/7/8/8.1/10, Mint, Ubuntu, Fedora, openSUSE, CentOS, Lubuntu, Zorin, Kali Linux and Raspbian Wheezy

The Panda PAU05 is a small Wireless-N USB dongle that works with many operating systems.

It is a small dongle so the range is not the best and it only works in the 2.4 GHz range with 802.11n.

While not the fastest or longest range dongle its ability to work with many operating systems make it a good low-cost choice for a Linux USB WiFi dongle.

Chipset RT3070
802.11n
2.4 GHz


TL-WN722N

TP-Link N150 Wireless High Gain USB Adapter (TL-WN722N)

UPDATE: The TL-WN722N chipset has changed with the new version 2 not able to go into monitor mode.

The TP-LINK TL-WN722N is used widely in the Pen testing Kali Linux community.

It works with the aircrack-ng suite and can go into monitor mode for testing a wireless network security.

A 4dBi External Antenna gives it better range than many smaller dongles.

Chipset Atheros AR9271
802.11n
2.4 GHz


TP-LINK Archer T4U

TP-Link AC1200 Wireless Dual Band USB Adapter (Archer T4U)

The TP-LINK Archer T4U is a dual-band 802.11ac USB adapter.

It uses the Realtek RTL8812AU chipset which many have had good results getting 802.11ac in the 5GHz range working with Linux.

Good 802.11ac USB dongles have been slow to come about and often require some setup for the drivers.

Here is a link to Realtek RTL8812AU chipset and Linux. https://github.com/abperiasamy/rtl8812AU_8821AU_linux

If you are looking for an easy setup than going with a known working wireless-N dongle would be better.

Chipset Realtek RTL8812AU
Dual Band 2.4 GHz and 5 GHz
802.11ac
Range
A dongle with a large external antenna will have better range, the frequency can also matter.
Wireless dongles that transmit in the older 2.4 GHz frequency can transmit a signal better than the new 5 GHz band.
Radio waves can travel better at lower frequencies than higher frequencies giving the lower 2.4 GHz better range than 5 GHz.
5 GHz was opened up to WiFi in 2013 since the 2.4 GHz band has become overcrowded and full of signals.
In a crowded wireless environment, signals begin to collide which than needs them to be resent slowing down a network.
Speed
The new 802.11ax WiFi 6 protocol introduced in 2019 is the fastest WiFi protocol available.
Unfortunately, there are no 802.11ax WiFi 6 Linux adapters yet.
The 802.11ac protocol introduced in late 2013 is the fastest WiFi protocol available for adapters currently.
802.11ac can move data up-to a theoretical 5Gbps with the most common speed 1.3 gigabits per second (Gbps)
This gives it a huge advantage over Wireless-N the last WiFi protocol introduced, which can move data up-to 150/300 Mbps.
802.11ac only works in the 5 GHz band which means range would be sacrificed for faster speeds. Wireless-N is the only protocol that can work in both bands 2.4GHz and 5GHz.
802.11ac USB adapters with drivers written for the Linux have been slow to come about. There has been some good Linux compatibility with the Realtek RTL8812AU chipset and 802.11ac.
Pen Testing
Being able to pen test with Linux is one of the benefits of using it.
Unfortunately not all USB adapter can pen test and go into monitor mode. The good news is there are some that can be used to pen test click here for our list of Linux Pen Testing USB Adapters.
Summary
When looking for an adapter that will work with Linux be sure to look at the chipset the adapter uses.
Also, beware of any changes to the chipset with new versions of an adapter and if the manufacturer has changed it.
While not common some manufacturers have been known to change an adapter chipset with new versions.
As always be sure to read the reviews on Amazon or elsewhere to be sure an adapter is a good fit for you and your setup.