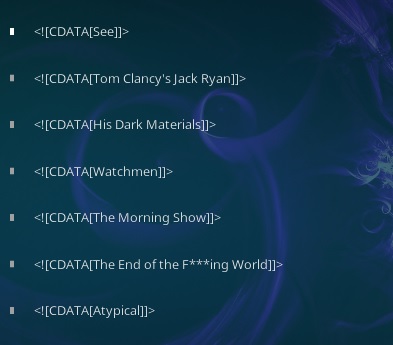 This page will be updated as new information becomes available.

UPDATE: The Crew Repository, and Numbers have pushed out a fix for the CDATA error. Most installs should automatically update. Some installs may need the the cache cleared or possibly a clean install.
To clear the cache go to Tools–>Clear All Cache.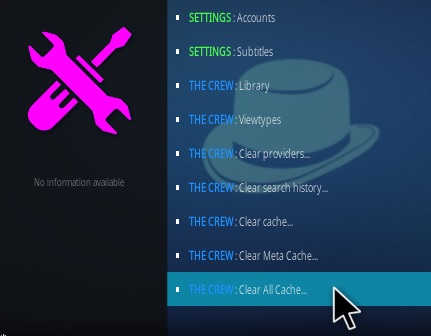 If the Crew or Numbers does not update with the new fix a Fresh Start can be done which sets Kodi back to default and the Crew installed again. Read Here for how to set Kodi back to default with the Fresh Start Plugin.
UPDATE TVDB has says they have a fix and will be pushing it out with no estimated time for when it will be released.
TVDB UPDATE – Hi there! Yes, these are known issues. As far as scraping, we had a pagination issue that was causing issues with any shows that had over 100 episodes. This fix has been deployed and should be working now. We also have a fix for the CDATA issue ready to deploy as well, it should be pushed out here this morning. I cant let you know when exactly that happens.
A temporary work around for the CDATA error is to use the TV Calendar Section.
Many Kodi add-ons are currently showing CDATA with no streams found.
TVDB which is used for scraping TV show data is undergoing maintenance.
A fix should be available soon from TVDB or add-on developers.

The TVDB forum has this message.
Hello everyone,
As you may have noticed we have cutover to our new site, so welcome, welcome, we are glad you are here! API traffic for both v1 and v2 has also migrated over to our new infrastructure. At the moment the dev team is working through some issues that have come to our attention, so please be patient with us.
We are aware that some Kodi users are having a hard time scraping shows with long episode orders. We are on the case and hope to have a fix soon.
–TheTVDB Team "
The movie section of most add-ons should be unaffected.
This does not seem to be related to One Nation Repository and Kodiuk which have recently shut down.
It is also unrelated to the recent shutdown of Openload and Streammango.

Add-ons With TV Sections Currently Working
Release BB
Tubi TV
FEN

Add-ons Currently Giving CDATA Error (TV Sections)
The Crew
Exodus Redux
Magic Dragon
Tempest
Venom
Scrubs V2