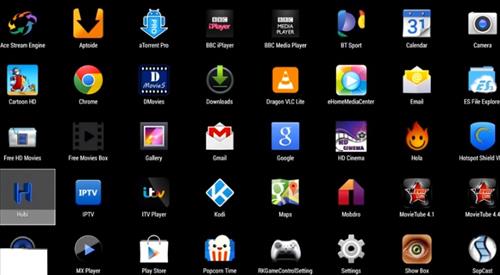 After Kodi has been used for a length of time most start to look at the many fully loaded Kodi boxes available, and there are many to choose from.
Kodi minimum hardware requirements are listed as a Dual Core 2.0 GHz CPU, 1 GB of RAM, and a 3D rendering capable video card.
Getting a faster box is recommended though as Kodi is always being updated.
Having a box that has future up-gradable option is always a good idea.
There are many good units available with some of our favorite picks below.
As always be sure to read the reviews on Amazon, forums, here, or elsewhere to be sure a unit is a good fit for you.
*This post contains affiliate links.
Our Picks for Best Fully Loaded Kodi Quad Core Android TV Boxes
NVIDIA SHIELD

NVIDIA SHIELD Android TV Pro 4K HDR Streaming Media Player; High Performance, Dolby Vision, 3GB RAM, 2x USB, Works with Alexa

The NVIDIA SHIELD is a top-end-box and possibly has the fastest Android TV box hardware available with the Tegra X1 processor.

It also uses the new 802.11ac WiFi protocol for fast wireless.

While the Shield is fast and full of options its price reflects this and is not for those on a budget.

HK1 Android TV Box

Sofobod HK1 Box TV Box Android 9.0, 4GB RAM 64GB ROM, S905X3 Quad Core 64bit Cortex-A55, GPU G31 MP2, 2.4G/5G Dual WiFi BT4.0 H.265 Decoding LAN 1000 RJ-45, HD 8K Smart TV Box

Antutu Benchmark Score 72207

The HK1 Android TV Box is a low-cost media center built to stream 4K videos at 60fps along with basic game-play.

It has an S905X3 CPU which is a good processor for budget media players in 2020.

It also has 4GB of RAM and 128GB of internal storage space.

This makes it a good unit for those looking for a mid-range low-cost media center box that can play 4K video.

T95Q Android TV Box

Android TV Box, YAGALA T95Q Android 9.0 TV Box 4GB RAM 32GB ROM Amlogic S905X2 Quad-core Cortex-A53 Bluetooth 4.1 HDMI 2.1 4K Resolution H.265 2.4GHz&5GHz Dual Band WiFi Smart Box

Antutu Benchmark Score 57546

The T95Q is an Android TV box that has the S905X2 CPU and 4GB of RAM.

Many Android TV box owners are familiar with the original S905 processor with the S905X2 faster and better.

It also has dual band WiFi, USB 3.0, Bluetooth 4.1, and 32GB of internal storage.

While testing it played 4K videos @60 FPS and did well at basic game play.

The WiFi tested at 48Mbps download speed which while not the best is good enough for the minimum 25Mbps 4K video requires to stream.

The T95Q is good for basic game play along with playing 4K videos and is a good basic media player.

Read Full Review Here of the T95Q Android TV Box


R10 R-TV

Android TV Box 4G+32G Bluetooth WIFI, DHong R-TV BOX R10 RK3328 RAM 4G EMMC 32G

Antutu Benchmark Score 57935

The R10 R-TV is an Android TV box with some good basic hardware.

It comes with a RK3328 CPU, 4GB of RAM, and 32 GB of internal storage.

The unit is round with the center having a light blue light that is also the power button.

It did very well during testing with no problems running Kodi along with fast WiFi at 138Mbps Download, and 21Mbps Upload speeds.

The back has all the ports with 3 USB, SD card slot, HDMI, Ethernet, AV, and Optical.

Read Here for a Full Review of the R10 R-TV

T95Z Plus

T95Z Plus Android 7.1 TV Box 3GB RAM/ 32GB ROM, Amlogic S912 Octa-Core 64 Bits Processor, Streaming Media Player 2.4GHz/5GHz WiFi, 1000M Ethernet LAN, UHD 4k Bluetooth 4.0

Antutu Benchmark Score 41158

The T95Z Plus uses the S912 Amilogic processor with 3GB of RAM.

The S912 is an improvement over the S905 and a big improvement over the S805/S812 many older boxes ship with.

In testing the WiFi was fast and maxed out a 50Mbps Download, and 5Mbps Upload connection. It also can play 720p, 1080p, or the new 4K Ultra HD videos.

The S912 CPU, 3GB RAM, and 32GB internal storage made it easily able to run Kodi.

Read Here for a Full Review of the T95Z Plus


T9 TV Box

T9 Android 9.0 TV Box 4GB DDR3 RAM 32GB ROM RK3318 Bluetooth 4.0 Quad-Core Cortex-A53 64 Bits Support Dual WiFi 2.4G/5G 4K 3D Ultra HD HDMI H.265

Antutu Benchmark Score 37843

The T9 Android TV box is a small unit built for those looking for a budget media center box.

It has an RK3328 CPU and 4GB of RAM which makes it great for streaming HD videos or basic game-play.

During testing, the WiFi was slow at 12Mbps Download and 9Mbps upload.

While it will stream videos it would be best to run an Ethernet cable with the T9 for the best results.

It had no problems playing HD 4K videos @ 60fps.

Read Here for a Full Review T9

Summary
Anyone who has used Kodi knows how great it can be for streaming your favorite shows.

Getting a fully loaded Kodi box that comes with everything installed is one of the better options.

While Kodi can be played on a computer or smartphone having a nice TV media steaming box is nice to have for any living room.