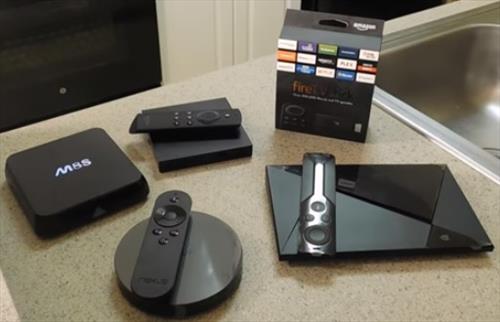 Kodi has become very popular in recent years with interest only continuing to grow.

And it is no big mystery as to why since it is the best home media center available and all for free.

Kodi when combined with the many add-ons that can be installed make it a power house that when combined with the right hardware is definitely a cable killer.

With the popularity of Kodi many android TV boxes have been introduced.

This can overwhelm anybody new to Kodi or anyone simply wanting to know what the best box is to get, along with Kodi and add-ons preinstalled.

So what is the best fully loaded Kodi box?

In reality there are too many variables to make a leap as to what the best box is.

There is no one-size-fits all answer. One person may be on a budget and simply want a box that works, another may want more internal hard drive space for a movie library and so on.

Keep in mind if you are new to Kodi I always suggest that you first run it on hardware you own for free such as a PC or Mac. Even most smartphones can run Kodi for free.

While Kodi is more than great some simply don't understand how it works.

Once you understand Kodi than having a nice Kodi box is ideal not only for looks but since they are small and compact which makes them a good fit in any home entertainment center.

Here is our picks for the best dedicated android TV Kodi boxes with add-ons installed.

Our Picks for Best Kodi Box Fully Loaded With Add-ons

Tops MXV Android TV BOX Amlogic S905 Quad-core Mini PC Streaming Media Player 2GB/8GB with Keyboard

The first box on our list is the MX V S905 Quad Core box.

The main reason it makes the list is it is a low cost box that runs Kodi surprisingly well for such a cheap price.

It doesn't have much built-in storage (8GB) but does have all the basics to have Kodi up and running.

While not the best hardware it does have possibly the best price tag and is a good box for those with cost in mind.

Keep in mind a low cost box will require more technical ability as there will be basically no support.

Hardware
CPU: S905 Quad Core Cortex-A53 2.0 GHz
RAM: 2GB DDR3
Internal Storage: 8GB ROM

For a Full Review Read Here.



…….
NVIDIA SHIELD TV Streaming Media Player

If you are looking for the box with the best hardware than the NVIDIA SHIELD is arguably the best current option available.

There are different versions that can add more internal storage from the base 16 GB model to the 500 GB hard drive edition.

It uses a Quad Core NVIDIA Tegra X1 processor with 3 GB of RAM.

The new 802.11ac WiFi is also built in for high speed wireless data transfer.

While more pricier than most boxes for the top hardware currently possible the NVIDIA SHIELD is tough to beat.

Hardware
CPU: Quad core NVIDIA Tegra X1
RAM 3 GB
Storage: 16GB or 500GB versions



…….
Matricom G-Box Q² Quad/Octo Core Android TV Box [2GB/16GB/4K] (Supports Amazon Prime Video!)

For those of you looking for a good mid-range box the Matricom G-Box is a good one to take a look at.

Like other Kodi boxes everything comes fully loaded and ready to run.

Hardware
CPU: Quad Core S812
RAM: 2GB
Storage: 16GB

For a Full Review Read Here.


Summary
All of boxes listed above can run Kodi and come fully loaded and ready to run.

When buying any android TV Kodi box be sure to read the review on Amazon or elsewhere to be sure it fits your technical ability.

While they all come with Kodi and add-ons installed there is always some degree of technicality that may not be for everyone.