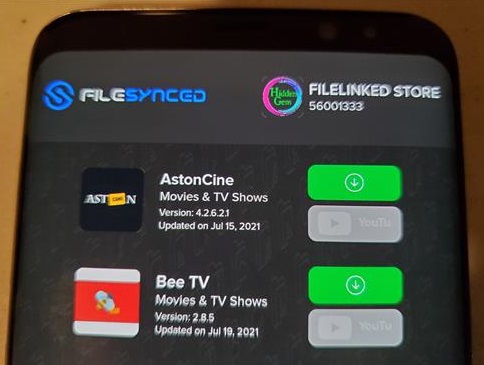 FileSynced is a new app for Android devices to share files as an alternative replacement to the now shutdown FileLinked.
Since FileLinked has shutdown several alternatives, have sprung up as a replacement, with FileSynced being one of them.
FileSynced works the same as the old FileLinked with a Store Code type in and a list of available apps that can be installed.
Other alternatives include AppLinked and UnLinked.
Read here for more on AppLinked
Read here for more on UnLinked
What is FileSynced?
FileSynced is an alternative to the FileLinked app which shutdown.
It allows for easy sharing of files for Android devices.
This includes many popular APKs, from movies and TV show apps to sports.
AppLinked and UnLinked are two other alternatives.
It can be installed on almost any Android device, including the Fire TV Stick, Smartphones, and Android TV Boxes.
How To Install FileSynced to an Android Device
Open a Web browser or Downloader and go to www.filesynced.com

Click Download Now (The top one is the Play Store while the bottom one is a direct download)

Click OK on a popup

Click Open

Click Install
Best Working FileSynced Codes
56001333


FileSynced Store code 56001333 has many APKs available to download and install.

It includes AstonCine, Bee TV, Cinema, HD, Cyberflix, FilmPlus, Flixoid, Nova TV, Stremio, Tea TV, Viva TV, AOS TV, HD Streamz, La Deportes, Leptop Sports, Live Net TV, Media Lounge, Ola TV, Oreo TV, RedBox TV, Swift Streamz, Thop TV, TV Tap, UK Turks, Morpheus, TV, IPTV Smarters, STB Emulator, Movie HD and many more.


55555555


The FileSynced code 55555555 is has several APKs available for download.


10000014
10000042
10000017
99999999
88888888
Summary
Many alternatives to FileSynced have sprung up, looking to replace the once popular FileLinked file sharing app.
Which one will be the most popular replacement is yet to be known.
FileSynced is currently working very well with several Stores to choose from for installing APKs.
AppLinked and UnLinked are two other popular alternatives that also work well.
Have you used FileSynced? Let us know your thoughts below.