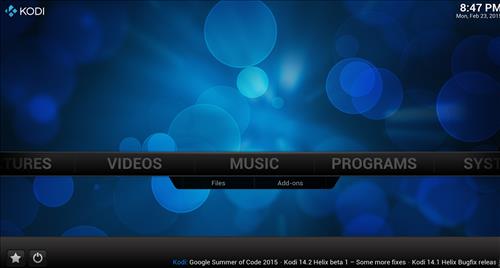 I have been a fan of XBMC / Kodi for many years starting with the original Xbox years ago. Since those days XBMC has evolved a lot to become a full fledged home entertainment system all for free.

Back in 2007 when I was first introduced to XBMC is was a cool way to hack a old Xbox and add on all kinds of very cool features. At the time it basically took a Xbox and made it into one of the better home entertainment units of the day.

XBMC has moved on since those days leaving behind the hardware limitations of the old Xbox and moving into other platforms, and changing its name to Kodi.

XBMC / Kodi can now be run on many devices from a desktop computer to a Apple TV 2 there are many options.

I use a old computer to run Kodi but there are many other ways. For example a friend recently showed me a small mini android TV stick that looks like a flash drive. It plugs straight into a TVs HDMI port and is a fully functioning Android with XBMC/Kodi. It streams movies flawlessly.

There are also dedicated android boxes that run Kodi.


An Apple 2 TV can be modified to run XBMC but not the new Apple 3 TV. Only the older model.

To keep it all simple and cheap you can always just run it on a old computer.

Even though XBMC/Kodi can connect to all your paid outlets like Netflix or Hulu Plus obviously most want the free content when using XBMC/Kodi.

A plug-in / add-on will need to be added to XBMC much like a app is on a smartphone. Here are the most popular.

1Channel
Genesis
Navi-X

Here are the steps to installing Kodi on a PC and installing the above top plugins.

Download Kodi here an install it on your computer. Choose Windows to install to a PC.

After Kodi it is installed we need to install plugins to take advantage of it. To install the plugins it is easiest to install a repository such as SuperRepo which will install them for you when selected.

Here are the steps to installing SuperRepo repository There is a video below the screenshots for a visual step by step install of SuperRepo.

1…
System–>File manager

2…
Add Source

3…
Click where it says "None"

4…
Add the following URL

5…
In the next box down type in the name SuperRepo

6…
Than click OK

7…
Back out and click on Settings. System–>Settings

8…
Install From Zip file

9…
Click on SuperRepo

10…
Choose the version you want it is the same as the version of Kodi you installed.

11…
Click ALL

12…
Click to install

SuperRepo is now installed. To install a plugin / add-on from SuperRepo go back to System–>Stetting

Add-ons

Get Addons

SuperRepo

Video Add-ons

Select the plugin you want to install. Here 1channel has been selected.

After installing the plugin go to Video-> Video Add-ons.

If you have not played with XBMC / Kodi and are thinking of getting rid of cable TV or satellite, definitely check it out.